Irene Muniz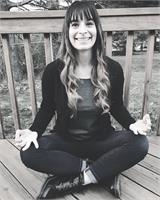 Avocado lover, sunset chaser, fearless Chicana, and yogin are just some of the ways to describe Irene. What began as a purely physical practice 15 years ago led Irene to discover the many spiritual, emotional and mental benefits of a well-rounded yoga practice. She completed her 200 hour Yoga Alliance Certified Vinyasa teacher training program at Younique Yoga, Allenhurst, NJ and soon after began her teaching journey.
Irene is known for her authentic, non-judgmental teaching style and compassion-centered philosophy. Her style brings together elements of strength, flexibility and balance, encouraging students to break through their perceived limitations both on and off the mat. Her classes are accessible to yogins of all potential shapes, ability, ages and interest. She takes tremendous pride in putting together the perfect playlist and aims to set the right vibe for each class. Irene has a deep gratitude for the loving wisdom all of her teachers and students have shared with her throughout the years. She is delighted and honored to join the community at Rise Power Yoga.
Irene Muniz is currently not instructing any classes.