Sarah Tannenbaum-Dvir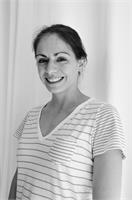 Sarah has been practicing ashtanga yoga for almost 15 years, starting from college and taking her through graduate school, medical school, residency, and fellowship. Yoga has kept her focused throughout many of life's twists and turns, and at this point she knows she will have yoga for life.
She completed a level 1 teacher training with Baron Baptiste, a teacher training with David Swenson in Ashtanga yoga, and various workshops including a 2 week course with ashtanga legend David Williams, whose yoga philosophy influenced her teaching style the most. To quote David: "If it hurts, you are doing it wrong." Sarah's classes create a safe and comfortable environment in which students can focus on matching breath and movement and leave class feeling great each time.
Other notable teachers along the way that Sarah would like to thank are Adele Gale, Marsha McNeight, and Brandi Kirkpatrick.
Sarah Tannenbaum-Dvir instructs the following:
Ashtanga yoga is a system of yoga transmitted to the modern world by Sri K. Pattabhi Jois (1915-2009). This method of yoga involves synchronizing the breath with a progressive series of postures—a process producing intense internal heat and a profuse, purifying sweat that detoxifies muscles and organs. Room Temp. 75-80