Allie Middleton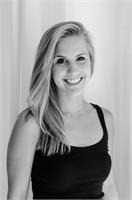 Allie is fascinated by the body's ability to heal itself through movement. An avid endurance triathlete and runner, Allie discovered yoga at age 13 as a means to curb nagging injuries. The more subtle (yet also more powerful) elements of mindfulness and presence proved themselves shortly thereafter, leaving her hooked. Her love for teaching and sharing the practice led her to 200H teacher training in 2014 at Namaspa, a Baptiste affiliate studio in Bend, OR. In January 2014, she also completed a training with Chelsea Roff of Eat, Breathe, Thrive — an organization which employs yoga in the treatment of body image and eating disorders.
A west-coast native, Allie recently moved from Portland, Oregon to pursue her PhD in medical anthropology at Princeton. She especially enjoys working with students and believes a yoga practice brings essential balance to the stresses of academia. She hopes to teach a yoga that empowers and enlivens while creating space to play and celebrate the body.
For more information, please visit: www.liminalliety.com
Allie Middleton is currently not instructing any classes.