Janell Bledsoe Scotto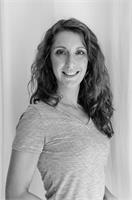 Since Janell was a little girl, she had found the art of dance to be a significant part of her life. Dance has not only been a great area of performance, but for Janell it has been her outlet, a form of expression; a place she can go to be free and connect to her inner self. At the young age of 16, she was blessed to begin her passion for teaching as she taught dance classes for the next 5 years at Broadway Dance Theatre. After several years in college studies and focusing on her career, she felt a sense of loss and disconnection. That's when she discovered yoga. She spent the next couple of years delving into her own personal practice. It was through her personal yoga practice that she regained inner connection and fulfillment within herself and knew this was something she wanted to share with the world. The doors opened for her in the summer of 2014 when her new found passion for movement brought her to The Center for Health and Healing in Toms River, NJ where she graduated with her 200-hr Registered Yoga Teacher certificaton. Janell is continually inspired by the transformative power of movement – both internally and externally – whether it be dance or yoga. She believes the mind, body, soul connection is essential to finding balance, love and self-awareness. She teaches her classes with a strong and compassionate environment for students to enhance body awareness, deepen their practice and enjoy the benefits yoga has to offer.
Janell Bledsoe Scotto is currently not instructing any classes.