Kelly Crouthamel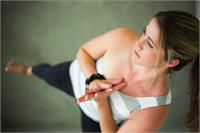 Kelly discovered her passion for fitness after the birth of her first child in 2006. She began teaching pilates, cardio interval and aqua exercise along with motivating many to live a healthier lifestyle. Kelly is also an avid participant in a variety of races including running (5ks to marathons), triathlons, and even a few "mud runs" for good measure.
While she had always enjoyed the physical benefits of yoga as a compliment to her vigorous exercise schedule, in 2010 Kelly became more intensely drawn to the practice for the spiritual and mental benefits. She began her journey to a certified yoga instructor at Princeton Center for Yoga and Health under the guidance of Cheryl Delaney. In 2013, Kelly became a lululemon ambassador.
Kelly believes that yoga keeps her balanced both inside and out and enjoys sharing her passion with her
students. Her classes are challenging and playful, encouraging students to balance strength and softness in their practice.
Kelly Crouthamel instructs the following:
Accessible to all levels fused with athletic intensity especially those seeking a stronger and intelligent practice. Vinyasa fuses a collective power poses with symmetry and intellectual body alignment while empowering the students to explore deeper connection to their physical and spiritual strength with options for inversions and arm balance. Class is set at a room temp. of 80-85 degrees. (Warm)